St. Clair Shores winters can be frigid. Protect your home from freezing pipes during the cold Michigan days and nights.
Before the temperature drops
Watch the weather to stay up to date on freezing temperatures, and take the following precautions.
Insulate pipes in unheated interior areas.
Wrap pipes in heat tape or controlled heat cables.
Open cabinet doors to allow pipes to be exposed to warm air.
Seal off any gaps/openings with caulking or insulation.
Disconnect outdoor hoses and faucets.
Allow a slow stream of water through your faucets from time to time. This will allow water to move through the pipes.
Keep your thermostat set to the same temperature during the day and night. Lowering the temperature at night will increase the chance of frozen pipes.
By taking the necessary precautions above, your home should be safe from freezing pipes. However, if you turn on a faucet and little to no water comes out, your pipes may be frozen. Here are a few steps you can take before calling a professional for help.
Turn off your main water supply, but keep the faucet on.
Apply heat to the pipe.
Continue to apply heat until you regain water pressure in the pipes.
If you do not regain water supply after completing the steps above, reach out to a professional, licensed plumber immediately to avoid major damage to your home.
Entrust Insurance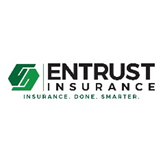 21719 Harper Ave, Ste. E
St. Clair Shores, MI
(586) 232-5511