Michigan winter comes in a hurry after summer vacationing and enjoying the warmer months. Failing to take the necessary steps to ensure that your boat is safe for the winter can end up costing you a fortune in both repairs and in time.
Failure to winterize your boat can lead to leaks, frozen or busted water pipes, damage to the interior and more. These problems can be very costly, especially if you do not have a boat insurance policy to help cover expenses.
In order to protect your boat, it is important that you make sure that you keep the gas tank full so that it will not take in extra water or cause damage to your engine or fuel tank. If this happens, your fuel tank can become moist and cause cracks to form. It's also important you make sure to change the oil prior to storing your boat for winter. Leaving the fuel low and failing to change the oil can lead to costly repairs that you could avoid.
If possible, use the top-quality supplies when purchasing your oil and your fuel. This makes it more likely your boat will be able to sit still for a long period of time without damage.
Make sure to drain any fluids that are in your boat and replace them with new fluids, including oil, fuel, coolant and any other products that are in your boat. Do not store your boat for winter in Michigan without doing these things!
Storing Your Boat
Storing your boat out of the water is best for your boat because it protects the boat from getting waterlogged and protects the laminate from getting too wet or blistering. If you choose to store it out of the water, disconnect the battery so that it is not stolen. However, only remove the battery if you're storing it out of water. After you remove the battery, clean the battery storage area so that it is ready for use when the next season comes.
When storing your boat outside the water, make sure to clean the outside and underneath the boat, using soap, water and even a power washer if handy. Try to make sure that you get all the grime off of the boat from the previous season so that it does not mess up the paint and the varnish that is present on the boat's exterior.
If storing your boat on shore is not an option, make sure that you close all of the hulls so that your boat does not sink, and open the cockpit drains to make sure no water leaks into the boat. Forgetting to do any of these things can cause your boat to sink or to get full of water. During the winter, this water can freeze and be very expensive damages.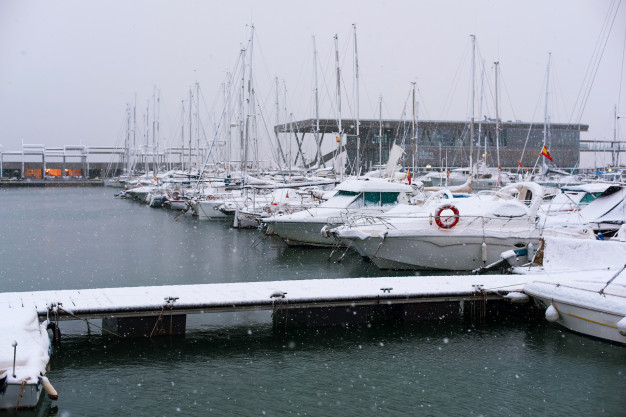 Covering Your Boat
After deciding where you are going to store your boat, make sure you cover it up. This will help to protect your boat from water, rain, snow and wind. Ice can cause your boat to erode and can cause a lot of damage.
Make sure that you do not have any holes in your cover. If there is even the slightest leak in your cover, your boat can suffer from damage both to the inside and the outside of the boat.
Mold Protection
Since it will be a while, purchase some mold and mildew bags to put inside your boat to help keep the boat smelling fresh and free of mold. Without these, your boat could be a mess when you return to use it next season.
Winter Ready
Following the steps above can help you to get your boat winter ready and be ready for the next boating season. Failure to follow these steps to winterize your boat can lead to heartache and a lot of out of pocket expenses.
Boat Insurance
Before you store your boat for winter, take a look at your boat insurance policy. Often times, boat owners will decrease the amount of insurance they keep on their boat during winter. But there are many risks throughout this time to keep in mind, and it's worth talking to your local insurance agent about adjusting your boat insurance coverage.