Are you a business owner in the St. Clair Shores, Michigan area? Do you provide your employees with vehicles to transport materials, meet clients, etc.? If you have company vehicles, it is important to protect your staff and vehicles with the proper auto insurance.
Commercial auto policies provide you with the following benefits:
Liability Coverage- If your vehicle is in an accident, which causes damage to nearby property or valuables, this policy can provide protection.
Damage and Collision Protection – After an accident, you may need to pay for repairs on your company vehicle and the vehicle you damaged. Commercial auto insurance can reimburse policyholders for the costs of the repairs. This also includes coverage to help you if your vehicle is damaged by an uninsured or underinsured driver.
Medical Payment and Lawsuit Coverage – Commercial auto insurance policies offer some protection for medical expenses, lost wages, and possibly legal expenses if a lawsuit is filed.
Comprehensive Coverage – This protects against damages that are unrelated to an accident. This includes vandalism, fire, theft, and floods.
Protection in Addition to Personal Auto Insurance Policies – Personal auto insurance doesn't provide the right protection while driving a business vehicle. Commercial auto insurance policies are needed for commercial use.
Optional Add-ons – Commercial auto insurance also provides add-ons for extra protection. These can include: roadside assistance, towing, rental reimbursement, and gap coverage.
To learn more about commercial auto insurance, contact Entrust Insurance.
Entrust Insurance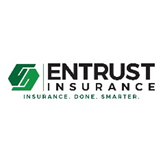 21719 Harper Ave, Ste. E
St. Clair Shores, MI
(586) 232-5511